Rite of Christian Initiation for Adults (RCIA)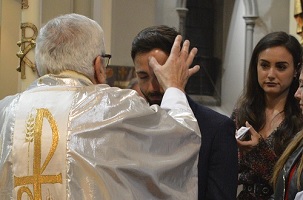 We are all on a journey of faith which is unique and personal, and yet a journey that we know is greatly enriched when we are able to come together and share with others.
Maybe you are a non-Catholic Christian accompanying your family to Church and now feel drawn to become part of this community of faith. Maybe your "roots" are in another religion, or in none. Maybe you are a Baptised Catholic but never received, as a young person, the Sacrament of Confirmation.
This programme is widely used in many parishes throughout the Diocese.  RCIA is both a learning and teaching programme that aims to help those who would like to know more about the Christian faith from a catholic perspective and might be thinking about becoming a Catholic. 
To be a full member of the Catholic Church you need to complete the process of Christian Initiation which is when you have been Baptised, Confirmed and made your First Holy Communion.

There is a parishioner along with Fr Colin presenting the course. We meet on Monday evenings in the parish room from 7.30 - 9pm. The meetings are relaxed and informal. There is a presentation on key aspects of the Catholic Faith. The sessions conclude with a time of prayer. If you are interested, please complete and return the application form to the Parish Office.

If you are not a Catholic, but regularly come to Sunday Mass or an adult Catholic not yet confirmed, why not get in touch with Fr Colin for an informal chat.