125th Anniversary of The Sacred Heart Church
On Friday evening, 7th June 2013, Sacred Heart Church in Hove celebrated its 125th birthday with a special Mass, followed by a party. Around 350 parishioners attended the Mass of the Feast of the Sacred Heart, including former priests of the parish, invited clergy from the city and some distinguished guests.

The Church was filled, with latecomers sitting on the benches by the rear entrance or on the floor in front of the baptistery. One of my favourite photographs is the one I took from the choir loft, accessed via a circular stone staircase (like the one in the Norman Keep at nearby Arundel Castle). The view was well worth the climb.

We had a couple of particularly important guests. First, the Rt. Rev. Kieran Conry, Roman Catholic Bishop of Arundel & Brighton, who presided at the Mass.
The other key guest was - let me get the title right - The Right Worshipful the Mayor of Brighton & Hove City Council, Councillor Denise Cobb. Mayor Cobb was recently elected and this was one of her first official engagements, so we were particularly honoured to have her with us.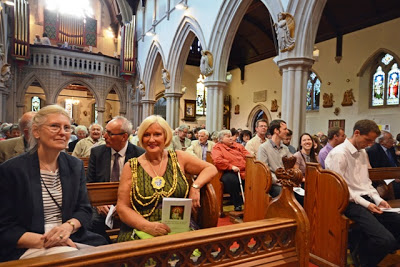 Mayor Cobb attended with her Consort, Luna-Rose Cobb, and had the front pew, up close to the action. I was the church's 'Official Photographer' for the evening, and she was most gracious when I occasionally thrust my lens close to the mayoral nose and fired off the flash.

During the Mass, Bishop Conry spoke of the importance of parish life extending into the wider community, supporting and enriching it, illustrated by the Sacred Heart's participation in the Brighton & Hove Churches Winter Night Shelter project. His comments were apt, thought-provoking and very well received; several parishioners came up to me afterwards to say that they had been both impressed and moved by the homily.

Music was a key part of the Mass. Two adult choirs, a children's choir and a Spanish-language choir joined the church organ in a variety of hymns and praise, including Mozart's 'Ave Verum Corpus' and the Sacred Heart patronal hymn that begins 'O Sacred Heart, our home lies deep in thee'. Usually rather good, I thought our regular choir and organist excelled themselves on this most important night.


Afterwards, the congregation and guests gathered in the Parish Rooms to cut the celebration cake and enjoy a huge variety of food and drink provided by the parishioners.
Mayor Cobb spoke of her surprise and delight at the large turnout, evidence of a flourishing church, while Father Kevin stressed the enormous generosity, friendship and goodwill of the parishioners. 

In short, it was a great occasion and at the end of the evening we dismantled the tables, stacked the chairs, disposed of the leftovers, washed up, hovered the carpet...and went home with the sense of a job well done.
by Harry Robertson