Liturgical Ministries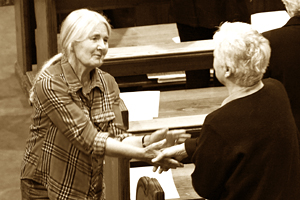 Many people are involved in the preparation and celebration of the Mass and other liturgies. Up front are readers and ministers of communion, musicians, singers and altar servers. Less high profile are the welcomers, collectors and children's liturgy leaders and behind the scenes are the sacristans, flower arrangers, cleaners, bidding prayer writers to name but a few.
There's something for everyone and if you'd like to be involved please download the Volunteering Form which gives more detailed information.
Note that ministries involving contact with minors or vulnerable adults require a CRB check and disclosure form as part of our safeguarding procedures. These ministries are appointed by the clergy, but enquiries from interested people are always welcome. Training and support is given and we are working towards periodic review of all those in volunteer ministries.
Extraordinary minister of Communion

Extraordinary ministers of Holy Communion are adults with a deep love for the Eucharist commissioned to serve the body and blood of Christ to the people of Sacred Heart parish during mass and visit the sick with Holy Communion. If you're interested in volunteering for this ministry please contact Fr Colin.
Reader

Readers at Sacred Heart are parishioners who are comfortable speaking to large audiences. Proclaiming the word of God is not only a service but a gift that is meant to be shared. As a reader you are called to be living servants of the Living Word of God, as you proclaim the scripture readings at the Liturgy.
Altar Server

The role of the altar server is to assist the Priest during the Liturgy of the Mass. We welcome both children and adults to be altar servers.
Welcomer

As a welcomer you offer hospitality to the community as they enter into the celebration of Mass, making each member of the congregation feel personally welcomed into the church and providing each person with a hymnbook etc. New parishioners are encouraged to volunteer for this ministry, it's a wonderful way to meet your parish family. The mission of a welcome is to minister to the community through hospitality and welcome.
Music

The Music Group at Sacred Heart welcomes anyone interested in helping with the music for our weekend and feast day liturgies.
Our music is based on the readings for each Sunday or feast day, and incorporates a wide range of musical styles, from Latin chant to contemporary compositions.  Our aim is to support and encourage the congregation to participate as fully as possible in the liturgy.
Sunday 11:30 Mass:

At the Sacred Heart we have a very enthusiastic parish choir which, currently, numbers some 20 men and women. The choir sings on Sundays at the 11:30 Mass and also at Mass on most major feast days under the direction of our Organist and Master of Music, Stephen Groves, assisted by professional singer Jane Money.
Sunday Mass at 11:30 (Missa normativa) is celebrated in English with Latin and the music includes both Gregorian Chant and Polyphony. On major feast days you will probably hear a splendid setting of the Mass by one of the great composers while on ordinary Sundays, the Mass setting is generally plainsong and the congregation is encouraged to participate in the antiphonal singing of these with the choir.
The choir also draws upon a large repertoire of motets in Latin, English and other European languages for use at Mass but there are always two or three congregational hymns, carefully chosen to suit the liturgy of the day.
Sunday 09:30 Mass: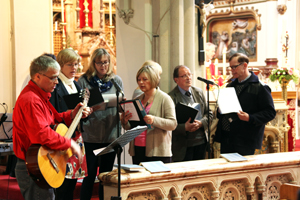 On most Sundays the 9:30 is supported by a choir of adults and children. The aim of this choir is to get everyone in church to sing and raise the roof in congregational song!
So in a way everyone coming to church at 9:30 is part of this choir. However, we would be very pleased to welcome any keen singers at the front.
Please contact Fran on 01273 388127 or frances_vanberkel@hotmail.com
If you play an instrument, be it guitar, keyboard, brass, woodwind or strings, we'd love you to join us; please come and have a chat after any of the 9:30 Masses.